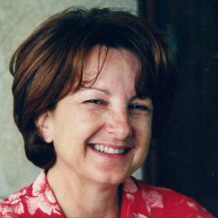 Alexandra Papaioannou – Panagopoulou was born in Pyrgos Greece, where she resides until today. Although she studied Tourism Management, she realized at an early stage her creative inclination. During her staying and working in London, she realized at an early stage her creative inclination. She acquired a broad understanding of multi-culturalism, receiving strong ethnic influences, which stigmatized her forthcoming designs and artistic creations.
Demonstrating at all times a strong interest in Fine and Decorative Arts, she experimented within the years in a number of techniques of processing fabrics and materials, embroidery and joining a variety of fabrics together, until around 2000, when she discovered in the unique technique of Patchwork-Quilting the perfect expression of her artistic nature.
Initially self-taught an later attending long distance seminars at the Quilt University, she began to evolve her personal style of combining throughout time various fabrics and materials. She paints, dyes and changes a piece of white fabric depending on the needs of each creation.
Strongly influenced by famous painters, poets, but also the 7th Art, Alexandra Papaioannou – Panagopoulou, paraphrases the words of her favorite artist Frida Kahlo: "I create my own reality. The only thing I know is that I create because I need to, and I create whatever passes through my mind without any second thought".
In 2011 Alexandra Papaioannou – Panagopoulou decided to launch her own exhibition of handcrafted creations of Patchwork entitled "Fabric, thread, colour" with strong elements of colors and shapes.